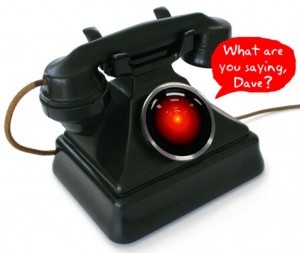 "Hello, this is your computer company and we are making this free call because you have a computer virus spamming the net."
Oddly enough you don't recognize the voice, and they don't seem to know anything about your computer or anything else.  They tell you it's really bad and just need to help you fix the problem.  The final hint.. their english is really bad and heavily accented.
It's a scam.  Most people know it in seconds but those that are less farmiliar with computers tend to fall for it.  Tricked into giving out information that can result in signing up for useless services, programs or at worse let hackers into their machines.  People feel enough the fool after these misadventures to not tell others about their experience, thus hiding how often this really happens.
Warn your folks/kin/parents (the elderly are especially vulnerable) and be vigilant.  It's an old trick with a new twist and Telus is no help at stopping these scammers from calling (you'd think they'd block the call-centers from calling into Canada at all).
If in doubt, call me.. but you already knew that.